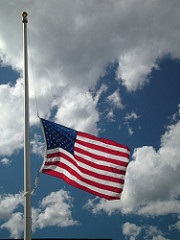 This Memorial Day weekend, communities all over the USA will honor those who have given their lives in service to our country. As such, the Flag should be honored through protocols that include the following:
The Flag should be raised all the way up the pole, before being lowered to half-mast
The Flag should fly at half-mast from Friday at 6 AM through Monday at 6 PM
The Flag should remain displayed at night only if there is a light shining on it
When the Flag is taken down, it should be raised to the top of the pole, then lowered
When the Flag is put away or retired permanently, it should be compressed into 13 folds. There is a procedure for doing this at https://www.legion.org/flag/folding. Each fold has a significance; the first fold is a symbol of life. The Flag should be folded into a triangle. The reason is that the cap of Naval Cmdr. John Paul Jones was a triangle.
The Flag should never touch the ground.
Wishing you a weekend of friends, fun and, most important–grateful reflection.
Photo by Mark Goebel. This work is licensed under the Creative Commons Attribution 2.0 Generic License. To view a copy of this license, visit http://creativecommons.org/licenses/by/2.0/ or send a letter to Creative Commons, PO Box 1866, Mountain View​