Tween & Teen Etiquette: The Basics and Beyond
(Ages 12 -17)
"Thank you for the wonderful presentation last night! It's evident that you really know your material, and that you enjoy presenting as well. The seminar armed the students with tips and techniques to make their first impression a memorable one."
Lauren Kracoff, Director, Mazie Mentoring Program, John Andrew Mazie Memorial Foundation
Social Savvy
Tweens and teem learn leadership skills that show they are poised, confident and cognizant of the comfort of others.Topics include the confident introduction, graceful dining, the hows and whens of electronic conversations( smartphone, social media, email), the gracious host and gues.
Make Your interview Rock!!
Students learn skills that will show a prospective employer they are serious, engaged and socially savvy. Topics include smart preparations, deciding what to wear, the professional introduction, how to make conversation, common pitfall and follow up and more.. Students leave equipped with skills and tools that will set them apart from the competition.
Making Conversation That Puts Everyone at Ease

Students learn how to distinguish appropriate from inappropriate conversation, how to speak to adults and peers they do now know, secrets on initiating, maintaining and ending a conversation as well how to navigate through as common conversation dilemmas. Role play, intriguing tales, and lively discussion e meaning to these life skills and make learning them fun!
5-Star Manners for Children ( ages 8-11)



Through manners, children develop empathy, an appreciation of the effects of their words and actions on others.
They develop confidence and build character. And, though they little suspect it, stories,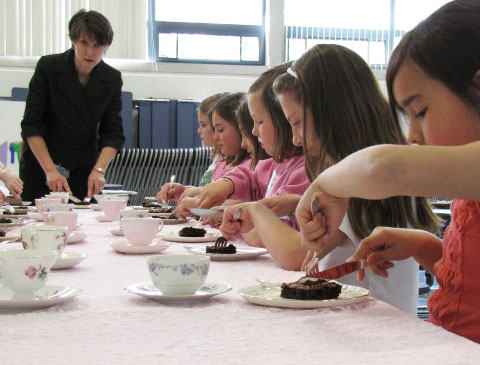 rhymes, role-play, lively conversation and gentle encouragement make manners fun! Below are some of the benefits my students experience:
Children realize that manners are not arbitrary rules. Manners are rooted in common sense and make life happier for everyone! (Being polite becomes ok!)
Children gain independence; they are less reliant on an adult to nudge them through table manners, introductions, etc.
A sense of helplessness gives way to the realization that they can influence their relationships and the world around them.
Workshops are custom designed. Below is a sampling of the topic choices:
Confident introductions
Initiating and maintaining a conversation
Being a gracious host or guest
Thank-you notes
Qualities of a considerate friend/classmate/family member
Dining: the table setting, handling utensils and a napkin, ordering at a restaurant passing food, common dilemmas
And more..
"We could not have asked for a better teacher."
Therese Minton, Nichols House Museum
Contact us for additional information and custom packages.
Simple Etiquette for Princesses & Knights

For aspiring princesses & knights ages 5-7
'Tea" and treats in Lady J's castle wraps etiquette lessons in magic and fun! Stories, games, treats, and a table befitting young royalty bring lessons in fundamental social skills.
.Properly attired in pink of silver capes and tiaras/crowns: the little royals listen to the Rules of the Castle (e.g. listen, every question is a good question) ad Lady J pronounces them Princesses & Knights. They then learn how behave like to princess or knight by learning t how to introduce themselves; each does so to Lady J. Then the're off to an elegant table (china & linens) for "tea", treats and a tea-party tale and, of course, lessons in the table manners of a polite princess or knight! Lady J winds up the Party with her original story/game The Polka Dot Princess. Hilarity reigns supreme!!
, Simple Etiquette for Princesses & Knights can be a single session or series. Aspiring princesses & knights spend 3-5 sessions preparing for the grand finale: the Royal Tea Party. Additional lessons in the series can include birthday-party etiquette; play-date manners, general social graces and the I Think You; re Wonderful activity ( see below)
"This is like being in a dream." Five-year old princess
I Think You're Wonderful!

Children in grades k-2 explore and learn to appreciate our differences, They come to realize that our differences make us all beautiful in our own way. We talk about the "jewels" inside all of us (kindness, joy, helpfulness, etc.) and that the combination of our inner "jewels" and outer differences make us all wonderful!! With the help of colorfully illustrated books, Lady J tells the story of The Ugly Duckling. This launches a conversation about talking to children who look different from us and talking to them to find their inner "jewels"– and maybe, gain a new friend!
The lessons come to life, as the children make paper-bag ducklings ( see photo). We talk about the differences in the ducklings and the "jewels" each child has assigned to him/her.
A tea party is available as an option for groups of 12 or fewer.
What Makes Us All wonderful is available as a stand-alone workshop or as part of a Simple Etiquette for Princesses & Knights series.