5-Star Manners for Children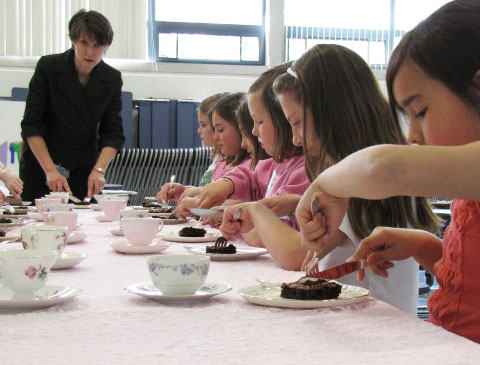 Children learn manners that develop their innate confidence, respectfulness, consideration, etc. and put these qualities on display! Stories, rhymes, role-play, and gentle encouragement instill manners that transform awkwardness into ease. Social interactions become more relaxed and enjoyable for everyone! Below are some of the benefits my students experience:
They realize that manners are not arbitrary rules. Manners are rooted in common sense and make life happier for everyone! (Being polite becomes ok!)
Awkwardness gives way to ease when dealing with adults. Children are able to carry on a conversation, make eye contact , etc. Children gain independence; they are less reliant on an adult to nudge them through table manners, introductions, etc.
Adults see them as mature and take them seriously.
Children gain self-esteem and confidence.
Children understand the effects their words and actions have on others; they are less self-centered and more considerate.
A sense of helplessness gives way to the realization that they can influence their relationships and the world around them.
Workshops are custom designed. Below is a sampling of the topic choices:
At home and away

Confident introductions
Initiating/maintaining a conversation
Being a gracious host or guest
Telephone poise
Thank-you Notes
Being a considerate friend/classmate/family member
At the dinner table

When to be seated
Table conversation
Holding a knife and fork
Eating soup
Ordering at a restaurant
Posture
Handling a napkin
Cutting technique
Passing the rolls
"We could not have asked for a better teacher."
Therese Minton, Nichols House Museum
Contact us for additional information and custom packages.