Conversation Secrets that Profit Businesses and Careers!

Have you ever felt blindsided by a would-be client who hired a competitor?
Do you wish you were getting more referrals?
You're personable, always only a phone call away and know what you're talking about! Why aren't you getting more business?
Maybe some of your competitors have refined the art of making clients and prospects feel important. After all, don't we all want to do business with people who make us feel acknowledged and valued?
In this workshop, professionals learn verbal and nonverbal communication techniques that enable them to make each client, (prospect) feel like their only client. Topics include the following:
How to make small talk easy for you and your client
Conversation conundrums such as dealing with an irate client
Body language: how to use this largely underused power tool to give your messages more clarity and impact!
Mobile-device turnoffs
Networking basics: how to project a sociable, confident, competent image and expand your referral network
Workshop can include industry-specific tips
To learn more call Janet Parnes at 508-376-1110 or email her: janet@EtiquetteForToday.net
See videos at http://tinyurl.com/SpeakerJP
Dining Savvy: How to Keep Your Prospects from Going up in Flames!



Have you ever been afraid of embarrassing yourself at a meal with a client, because you weren't quite sure about your table manners?
Do you have an agenda in mind and want to be sure food-related issues don;t get in the way?
Project a professional, socially aware confident image when dining with clients, vendors or colleagues by knowing the fine points of business-dining conduct Incorporate these into your dining habits and you will dine with ease and stay on track. You will find yourself preempting catastrophes, navigating dining dilemmas discretely and focusing on the people and conversation at hand.
Topics include the following
Smart preparation
Host and guest responsibilities
When to be seated and start eating
The table setting
Handling silverware
Toasting savvy
Alcohol considerations
Napkin handling
How to eat soup and butter/eat a roll
How to pass foods
Dining pitfalls- olive pits, bones, unwise food selections, etc.
And more…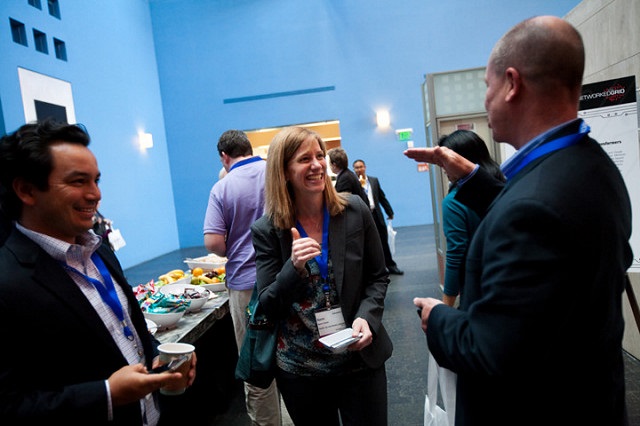 Networking Strategies: Make Yourself Memorable & Referable

Do you walk into a networking meeting and panic when you don't see a familiar face?
Do you cringe at the thought of making small talk?
Do you understand the value of networking but wish there were an easier way?
Learn simple, implementable interpersonal skills that will help take the ache out of networking and free you up to build connections and advance your career.
Topics include the following:
How to wear your name badge
Entering the room with confidence
Incorporating yourself into a group
Presenting and accepting a business card
Body language: the powerful silent messenger
Handling food
Tips on making small talk
Effective listening
How to keep a conversation going
How to end a conversation
How to make everyone in the group feel included
Remembering names
Handling food with ease
Common dilemmas: breaking into a group; awkward silence, ending a rambling/uncomfortable conversation etc
And more…
See.videos at http://tinyurl.com/SpeakerJP