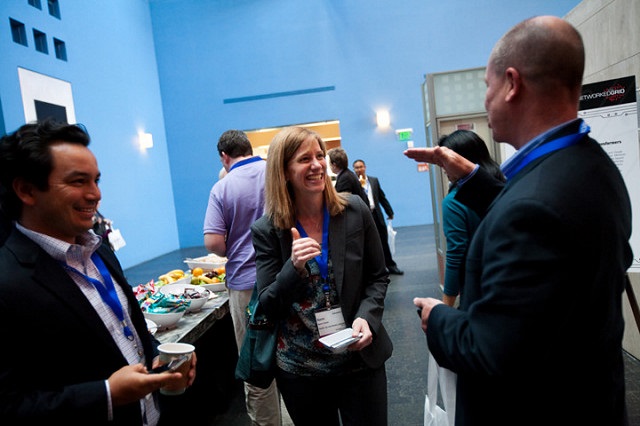 How to Unleash the Power of Conversation to Bring in Clients and Build a Cohesive Team



Are you worried about competitors siphoning off clients and prospective clients?
What can do you do?
The answer may be a simple as a conversation.
People want to know about the product or service they buy. In addition, they must know, like and trust the employee/s they deal with when making that buying decision.
A team of employees who know, like and trust each other, is positioned to generate those same emotions with prospects and clients.
Trying to generate likeability and trust in everyday ways will not distinguish you from the competition.
In this program, Janet addresses out-of-the-ordinary, easy-to-implement conversation techniques such as
Words and phrases that make a client feel the employee has their best interest at heart
How to use body language to, quietly, show a prospect undivided attention
Networking strategies that ease employees into building rapport and connections
How to execute a professional introduction –yourself and others
Small-talk techniques that relieve nervousness
How to navigate through conversation conundrums with polish
When and how to communicate digitally (texts, emails, smartphone)
What to do upon meeting a colleague who could add value as an employee
How to develop a team in which everyone feels acknowledged and valued
And more
Expect a program that is rich with tales and trivia! (Janet is also a professional storyteller).
To discuss your company's circumstances and determine whether this program can be of service, schedule a call or meeting with Janet by calling 508-376-1110 or emailing her at janet@EtiquetteForToday.com
See Janet in action at http://tinyurl.com/SpeakerJP
Business-Dining Conduct: How to Keep Opportunities from Going Up in Flames!
Have you ever been afraid of embarrassing yourself at a meal with a client, because you weren't quite sure about your table manners?
Regarding table manners:
Being the one at the table who knows the most won't cost you anything– being the one who knows the least can cost you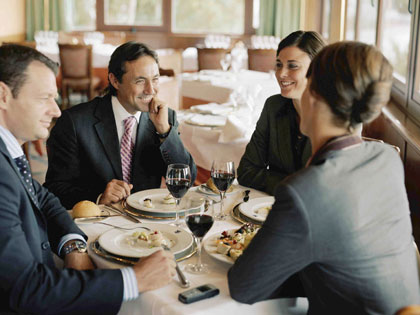 a client!
Knowledge of a product or service is critical. However, a prospective client is not going to feel comfortable watching soup dribble down your jacket. And, emotion plays a significant role in a prospect's. buying decisions.
Correct table manners project a professional, competent confident image with clients, vendors and colleagues. Manners help you preempt catastrophes, navigate discretely through dining dilemmas and focus on the people and conversation at hand instead of what to do next.
Program topics include the following
Smart preparation
Host and guest responsibilities
When to be seated and start eating
The table setting
Handling silverware
Toasting savvy
Alcohol considerations
Napkin handling
How to eat soup and butter/eat a roll
How to pass foods
Dining pitfalls- olive pits, bones, unwise food selections, etc.
And more…
Expect a program that is rich with tales and trivia! (Janet is also a professional storyteller).
To discuss your company's circumstances and determine whether this program can be of service, schedule a call or meeting with Janet by calling 508-376-1110 or emailing her at janet@EtiquetteForToday.com
See Janet in action at http://tinyurl.com/SpeakerJP