How to Unleash the Power of Communications to Bring in Clients

and Build

a Cohesive Team



Does it worry you to see employees with potential stagnating, because they don't know how to communicate with prospects, clients and colleagues comfortably?
Is this costing the company clients
Technology allows us to communicate quickly, but at a price: it is creating a growing need for people to learn how to connect in a way that makes others feel valued and understood. Prospects who feel a company representative cannot relate to them and their concerns do not become clients; employees who feel isolated underachieve, at a cost to their careers and the company.
In this workshop, professionals learn a system of practical strategies that enable them to communicate and connect, so that employees and clients feel valued and understood. In addition, because the techniques are practical, they are understandable and become natural.
Below is a sampling of the topics addressed:
Words and phrases that make a client feel the employee understands their situation and has their best interest at heart
Body language that makes a client feel heard
Networking strategies that build rapport and connections
Small-talk techniques for the ill-at-ease
Pitfalls as well as strategies that make the most of digital communications (texts, emails, smartphone)
Behaviors that make everyone on the team feel appreciated
Expect an experience that is rich with tales and trivia! (I am also a professional storyteller).
To discuss your company's circumstances and determine whether this program can be of service, schedule a conversation with me: Phone:508-376-1110 ; mail: at janet@EtiquetteForToday.com. We'll talk about your situation, where the gaps lie and how to fill them.
See Janet in action at http://tinyurl.com/SpeakerJP
What did they say?
"I enjoyed Janet's interactive etiquette presentation at a Waltham Chamber event recently. Many at my table (including me) left with a list of notes. The interpersonal and non-verbal segment provided excellent skills for success.
Vince DelPriore, ACC, Professional, and Student Coach
Business-Dining: How to Keep Opportunities from Going Up in Flames!

Have you ever been afraid of embarrassing yourself at a meal with a client, because you weren't quite sure about your table manners?
Being the one at the table who knows the most won't cost you anything– being the one who knows the least can cost you a client!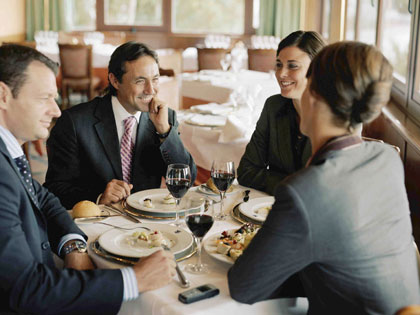 Knowledge of a product or service is critical. However, a prospective client is not going to feel comfortable watching soup dribble down your jacket. And, emotion plays a significant role in a prospect's. buying decisions.
Correct table manners project a professional, competent confident image with clients, vendors and colleagues. Manners help you preempt catastrophes, navigate discretely through dining dilemmas and focus on the people and conversation at hand instead of what to do next.
Program topics include the following
Smart preparation
Host and guest responsibilities
When to be seated and start eating
The table setting
Handling silverware
Toasting savvy
Alcohol considerations
Napkin handling
How to eat soup and butter/eat a roll
How to pass foods
Dining pitfalls- olive pits, bones, unwise food selections, etc.
And more…
Expect a program that is rich with tales and trivia! (Janet is also a professional storyteller).
To discuss your company's circumstances and determine whether this program can be of service, schedule a call or meeting with Janet by calling 508-376-1110 or emailing her at janet@EtiquetteForToday.com
See Janet in action at http://tinyurl.com/SpeakerJP