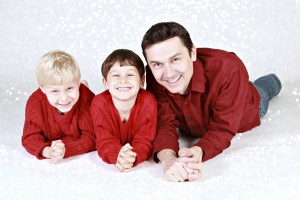 Are you pulling at your hair, trying to think of something special to give your father on Fathers' Day? Try the gift of appreciation. There are simple actions you can take to show Dad that he is important. Read below to find out how Fathers' Day came to be. You'll also see a few appreciation-gift tips:
A West Virginia church planted the Fathers' Day seed in July 1908 when it created an event to honor fathers. The church did this to recognize the 362 men who had died in a recent coal-mine explosion. In 1909, Sonora Smart Dodd, one of six children raised by her widowed father, tried to establish a day to parallel Mothers' Day, already a national holiday. Presidents Wilson and Coolidge urged states to make Fathers' Day a state holiday. Finally, in 1972 Richard Nixon proclaimed it a national holiday.
Here are a few simple ways you can remind Dad that he is important:
When Dad comes home at the end of the day, turn off the tv, put down the iPad, walk up to Dad, smile and say "Hi". Why do I suggest this? A visiting college roommate of mine wondered how my father could come home from work in such a good mood. After all, he was coming home, likely worn out, to the tumult of a household with eight kids! She finally figured it out—eight kids greeted him with hugs! A warm welcome can do a lot towards brightening a tired-dad's day.
Ask Dad about his day. Dad likes to hear about your Turn the tables: show an interest in the comings and goings of his day—then watch him smile!
At dinner, offer to pass the bowl of potatoes around the table, starting with Dad. Explain that he is the guest of honor and, thus, comes first!
Show Dad that his time and efforts pay off. For example, if you are taking piano lessons, choose a song to practice and play it for him. He'll see that the lessons mean something to you and that his money is well spent. Or maybe, he been working with you on your (baseball) pitch. Practice, practice, practice and pick this day to toss a ball to him in your new and improved style!
When friends come over and you see Dad, stop and say, "Hi" (or introduce them). Dad will see that you are proud to be his kid. He'll be reminded of his pride in being your dad!'
Great gifts come in innumerable shapes and sizes. Sometimes, the gifts that mean the most are the ones wrapped with recognition and appreciation. These are gifts can be given over and over. I wish your dad a happy Fathers' Day!