Tween & Teen Etiquette: The Basics and Beyond

"Thank you for the wonderful presentation last night! It's evident that you really know your material, and that you enjoy presenting as well. The seminar armed the students with tips and techniques to make their first impression a memorable one."
Lauren Kracoff, Director, Mazie Mentoring Program, John Andrew Mazie Memorial Foundation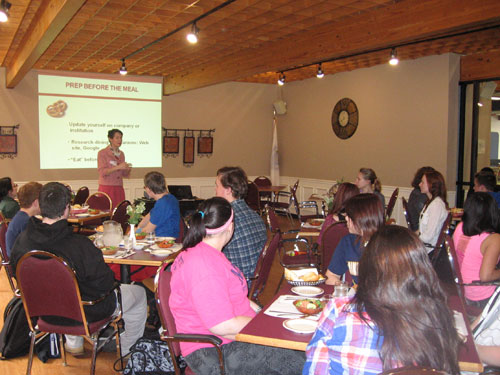 With an eye on independence, teens need to learn the skills necessary to succeed in a life of new – and often bewildering – changes. Through lively discussion, role play, and props, teens acquire the confidence to handle social and employment situations with grace.
Social Savvy
Tweens and teem learn leadership skills that show they are poised, confident and cognizant of the comfort of others.Topics include the confident introduction, graceful dining, the hows and whens of electronic conversations( smartphone, social media, email), the gracious host and gues.
Make Your interview Rock!!
Students learn skills that will show a prospective employer they are serious, engaged and socially savvy. Topics include smart preparations, deciding what to wear, the professional introduction, how to make conversation, common pitfall and follow up and more.. Students leave equipped with skills and tools that will set them apart from the competition.
Making Conversation That Puts Everyone at Ease

Students learn how to distinguish appropriate from inappropriate conversation, how to speak to adults and peers they do now know, secrets on initiating, maintaining and ending a conversation as well how to navigate through as common conversation dilemmas. Role play, intriguing tales, and lively discussion e meaning to these life skills and make learning them fun!