Teen Etiquette: The Basics and Beyond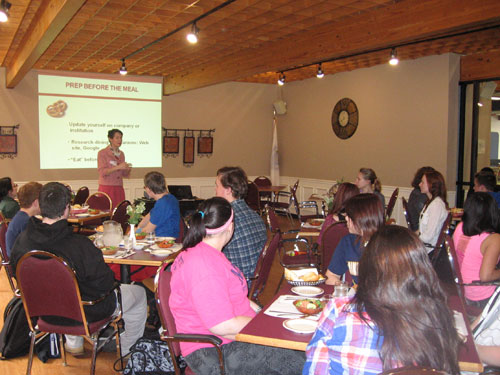 With an eye on independence, teens need to learn the skills necessary to succeed in a life of new – and often bewildering – changes. Through lively discussion, role play, and props, teens acquire the confidence to handle social and employment situations with grace.
"Thank you for the wonderful presentation last night! It's evident that you really know your material, and that you enjoy presenting as well. The seminar armed the students with tips and techniques to make their first impression a memorable one."
Lauren Kracoff, Director, Mazie Mentoring Program, John Andrew Mazie Memorial Foundation
"Sooner or later most, if not all of our students, will conduct business over a meal. Ms. Parnes walked the students through a typical business meal offering essential information in an easy engaging style. And, as Minuteman programs focus not only on acquiring knowledge but also applying it, her hands-on approach was consistent with the way our students learn. Student feedback showed that they picked skills they will use and had fun in the process!"
Angela Carney, Career and Guidance Counselor, Minuteman High School, Lexington, MA
Social Savvy
Telephone skills
Etiquette of public places (movies, escalators, elevators, etc.)
Introductions
Public speaking
Thank-you notes
Social and Business Dining
The table setting and using utensils
What to do during a toast
When to start eating
Handling a napkin
Dining: Continental vs. American styles
How to pass food
How to butter a roll and eat soup
Polite conversation
Receiving lines
Managing difficult-to-eat foods
Dining at a restaurant
Interviewing Secrets: How to Stand out from the Competition!
Students learn skills that will show a prospective employer they are serious, engaged and socially adept.
Why do I need to know all this?
Identifying suitable jobs
Preparing for an interview: questions to anticipate; responses to prepare; questions to ask
Waiting-room smarts
Information to include in a resume
References:how to make the most of them
The professional introduction
Interviewing dress that impresses
Body language-strong silent messages
Common pitfalls
Follow up to remain memorable
Tips for on-the-job success
Making Conversation That Puts Everyone at Ease
The big deal about small talk: what it is and its role in building relationships
When it is appropriate to text/email and when to have a face-to-face conversation
The importance of eye contact
Simple tips on initiating a conversation
The importance of focusing on the speaker; how listening keeps a conversation flowing
How to handle an awkward pause
Practicing diplomacy when opinions differ
How to speak to a group and make everyone feel important
How to break into a group (and when not to do so)
Matching topics to the setting
Conversation conundrums such as the awkward pause, rambling speaker, need to leave
Body-language basics: monitoring your own and reading others
Making conversation during an interview
Making social conversation
How to wind up a conversation graciously